We've started a new plant cutting exchange program that's located on the terrace window inside the library. We're asking patrons to visit, take a plant cutting home, bring some cuttings back in the future, and share cuttings of your favorite plants with others. Find some take-home information with your new plant, see the information below, or check out a book from our non-fiction section on plants.
How to Root Plant Cuttings in Water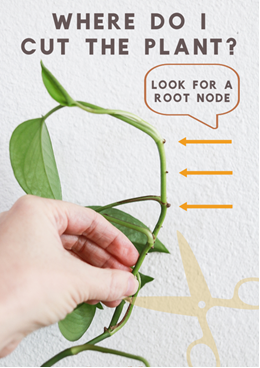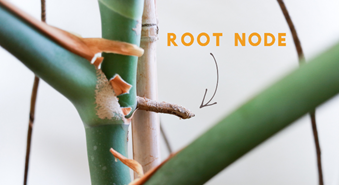 Identify the location where you will snip your cutting from the main plant.  Not all cuttings that will root in water have root nodes, but most of them do so find the root node on your plant.
Carefully cut just below the node with a clean sharp knife or scissors.  About 1/4″ below the node.
Place the cutting in a clean glass.  Poor enough room temperature water to cover the nodes of the cutting. Place your rooting plants in an area with bright indirect light. 
Change out the water every 3-5 days with fresh room temperature water. When you change out the water, be sure to give the roots a little rinse and a little rub with your fingers.  The roots can get a mucky film (that's the technical term) and you want to wipe that away before placing them in the new water.
Wait and watch as your roots grow!  depending on the plant. You'll also need patience…serious patience!  This can take weeks to months If you are trying a new cutting and two weeks go by with no roots, it's not always bad news.  Avocado pits can take 3 months or more!
Once your roots reach approximately 3″-5″ then it's time to put the cutting in soil!
Digital Resources (apps) for Gardening DIY
Pl@ntNet. Android. Apple. Help scientists understand the biodiversity of our world and wow everyone with your newly found plant ID skills via Pl@ntNet. Snap a pic of the plant you'd like to ID, the more detailed the better, and see if it matches one of the 20,000 species already in the database. Pics are collected and analyzed by scientists, all as a community-based way to explore earth's flora and fauna.
SmartPlant. Android. Apple. Making sure your leafy friends are thriving can be a tricky endeavor, but SmartPlant can help. Identify your plant via the app, then receive reminders on when to water or otherwise care for your vegetation. You can ask experts their opinion on problems and get immediate advice too, on issues like pests, yellowing leaves, withering flowers, and more.  
Blossom. Android. Apple. This mega extensive app can help you with all your planting needs, including keeping a journal of your leafy friends, so you can track their growth and progress. Not sure if that's a new leaf or your plant's grown taller? Just refer to your personal plant collection to make sure all is well.  
GardenTags. Android. Apple. If you're looking to grow your friend group and your garden, check out GardenTags. Novice gardeners can get advice directly from experts, as the app aims to make gardening accessible by creating a community of plant lovers. Leaf lovers for life!
ADDITIONAL OPTIONS TO EXPLORE
PictureThis. Android. Apple. Need to know which plants are okay to be around your pets and humans? PictureThis has all the info you'll need. Snap a pic to identify the plant you're eyeing, and quickly check its toxicity level to animals and people. The app has lots of other functions, too, including watering reminders and care tips and tricks.
Florish. Apple. So you've got a new houseplant, but aren't sure where to put it. In your bright office, next to the window, or perhaps on your bookshelf, away from direct sunlight. Florish will not only help you identify your indoor plants, but you can use your smartphone to measure the light in certain areas of your home—helping you find the perfect perch for your petunia.
Vera. Android. Apple. Do your friends call you for gardening tips? Do you attract a crowd at the nursery, with other shoppers pestering you with questions? Then consider Vera, a plant journal app that lets you take the lead, logging watering, fertilizing, repotting, and more. Track your plant babies' growth—they get big so fast!