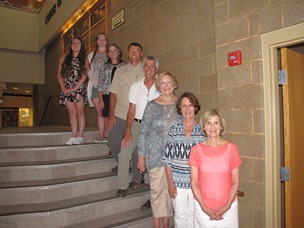 Library Board of Trustees
AMENDED BOARD MEETING AGENDA
September 22, 2021, 4 p.m. via Zoom due to Covid-19 pandemic
Meeting ID: 979 0402 8021
Passcode: 316451
One tap mobile
+13462487799,,97904028021#,,,,*316451# US (Houston)
+16465189805,,97904028021#,,,,*316451# US (New York)
Dial by your location
+1 346 248 7799 US (Houston)
+1 646 518 9805 US (New York)
888 475 4499 US Toll-free
833 548 0276 US Toll-free
833 548 0282 US Toll-free
877 853 5257 US Toll-free
Meeting ID: 979 0402 8021
Passcode: 316451
Find your local number: 
https://cdaid-org.zoom.us/u/abTFTKzF6a
Join by Skype for Business
https://cdaid-org.zoom.us/skype/97904028021
Call to Order
Public Comment
If you wish to provide a public comment, it may be given during this section of the meeting. Speakers are limited to three (3) minutes. Groups representing a consistent viewpoint are strongly encouraged to select one spokesperson. If you do not attend the meeting, you may submit a written or oral testimony to be read on your behalf. Submissions can be made to the library director by emailing director@cdalibrary.org or calling 208-769-2315 Ext. 436. Please note that comments must be received by noon on September 21, 2021.
Consent Calendar – Action item
Items to be approved as a group with a single motion; minimal discussion; items may be removed for discussion
Approval of the Agenda—Changes/additions to be approved by roll call vote
Approval of the August 25, 2021 Minutes
Approval of Financial Reports
Director's Report – Questions/discussion about Monthly Statistics Report and Monthly Staff Reports
Other Reports – When appropriate
City Council Liaison
Friends of the Library
Library Foundation
Unfinished Business
FY 2021-22 budget– Action Item
New Business
2021-2022 holiday observances – Action Item
Confidentiality of Library Records Policy & Gift Policy review – Action Item
Executive session pursuant to Idaho Code 74-206(b) – Action Item
Other
Next scheduled meeting: October 27, 2021 at 4pm
Adjournment
The Coeur d'Alene Public Library will make reasonable accommodations for anyone attending this meeting who requires special assistance for hearing, physical or other impairments.
Please contact the library director by emailing director@cdalibrary.org or calling 208-769-2315 Ext. 436 at least 24 hours in advance of the meeting date and time.
702 E. Front Ave. Coeur d'Alene, ID 83814 208-769-2315 
www.cdalibrary.org
Monday – Thursday, 10 a.m. to 8 p.m. Friday – Saturday, 10 a.m. to 6 p.m., Sunday 12 p.m. to 5 p.m.