Intro
The Friends of the Library's
purpose is to foster closer relations between the Library and the citizens of Coeur d'Alene and environs by promoting knowledge of the resources, services and needs of the Library.  Through their activities and projects they assist in bringing to the Library funds for special needs beyond the Library budget.
The group works in conjunction with the Staff, Board of Trustees and the Library Foundation to improve and extend Library services and the facility.  They may also serve as Volunteers in the Library.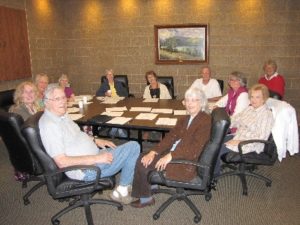 Friends of the Coeur d'Alene Public Library meet on the 4th Tuesday of each month at 10:30 AM at the Library.
Many volunteers make a difference in the effectiveness of this organization.  One of the main purposes of the organization is to supplement the library budget.  Fund raising projects, such as the annual book sale, enable the organization to sponsor many activities, including the following:
Annual Writer's Competition
Children's Summer Reading Program
Children's Stamp Club
Friends' Newsletter
Some of the items the Friends of the Coeur d'Alene Public Library have purchased include:
Library Furniture
Book Carts
Computer Equipment and Programs
Directional Plates for Shelves in the Stacks
Blinds for Windows
Books on Tape
Large Print Books
New Books Annually
HP DeskJet Printers
For more information about how the Friends of Libraries work (particularly with the Board of Trustees, visit http://libraries.idaho.gov/files/TrusteeManual.pdf
Friends Application
Donate Through Friends