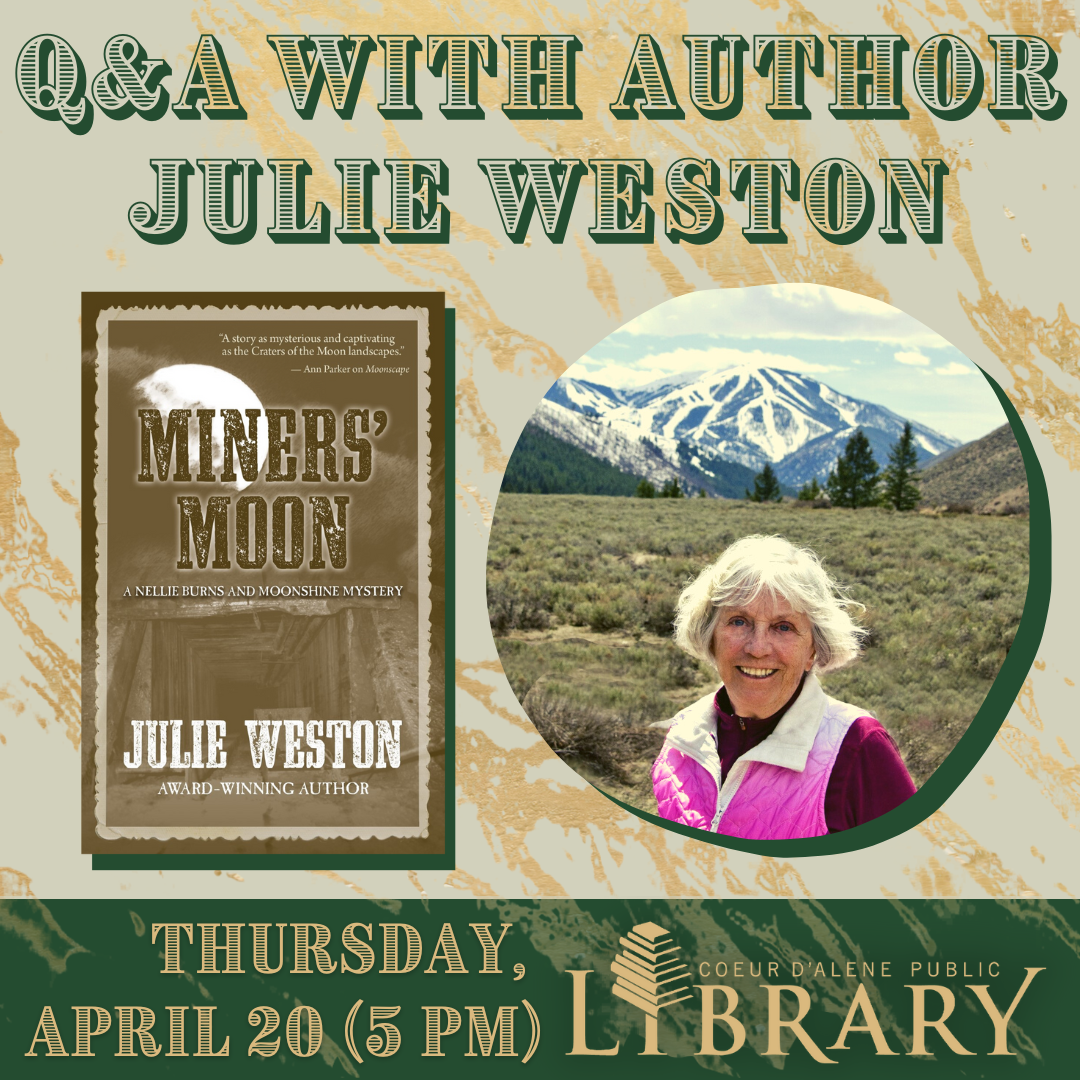 Q&A with author Julie Weston
Join author Julie Weston as she performs a reading from her fourth Nellie Burns and Moonshine mystery, Miners' Moon, followed by a Q&A session.
In Miners' Moon, crime photographer Nellie Burns and Basque Sheriff Charlie Asteguigoiri travel from central to northern Idaho to investigate bootlegging and possible complicit town officials. A suspicious mine explosion pulls them into a second investigation. Retired miner Rosy Kipling joins them, bringing Moonshine with him. While Charlie roams the backcountry in search of illegal stills, Nell questions survivors of the explosion and a madam. Rosy descends the principal mine to listen and pry. The two investigations lead all three to discover secrets and lies—from "soda drink" parlors, local brothels, worker hints deep in the mine shafts—that have deadly consequences. Predictably, Nellie gets in over her head. A rock burst seals off Charlie and Rosy in a mine collapse. Moonshine plays an instrumental role, and Nellie tries to rise to the occasion in spite of her debilitating fear. All four long to return to their high desert home, but cannot until they lay bare the crimes before their luck runs out.
Weston grew up in Idaho and practiced law for many years in Seattle. Her debut mystery, Moonshadows, was a finalist in the May Sarton Literary Award. Basque Moon, her second mystery, won the 2017 WILLA Literary Award in Historical Fiction. Moonscape, won a Bronze from Foreword INDIE Awards. Weston's mysteries take place in the 1920s in Idaho and feature Nellie Burns, photographer, and her black Labrador dog, Moonshine.