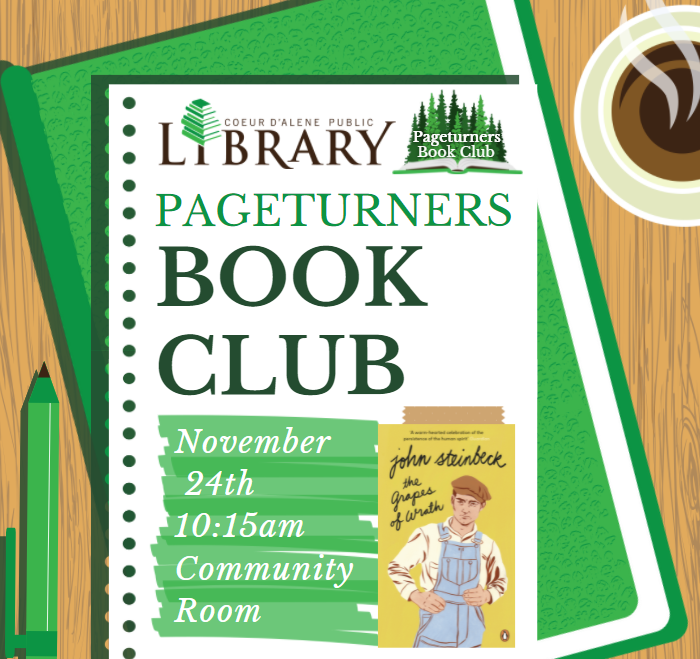 November Pageturners
The Pageturners Library Book Club will be meeting in the community room on November 24th at 10:15am to discuss John Steinbeck's The Grapes of Wrath. The discussion will also be available on Zoom, and a recording will be available after the event with closed captioning. Masks will be required to attend the program in person.
The Grapes of Wrath is the best-known novel by John Steinbeck, published in 1939. It won the National Book Award and Pulitzer Prize for fiction, and it was cited prominently when Steinbeck was awarded the Nobel Prize in 1962.
Set during the Great Depression, the novel focuses on the Joads, a poor family of tenant farmers driven from their Oklahoma home by drought, economic hardship, agricultural industry changes, and bank foreclosures forcing tenant farmers out of work. Due to their nearly hopeless situation, and in part because they are trapped in the Dust Bowl, the Joads set out for California along with thousands of other "Okies" seeking jobs, land, dignity, and a future.
Pageturners began meeting over a decade ago and meets the fourth Wednesday of every month at 10:15 in the Community Room. The next few month's selections include: January 26th- "Faithful and Virtuous Night" by Louise Glück, February 23rd- "The Nickel Boys" by Colson Whitehead, and March 23rd- "Less" by Andrew Sean Greer.For more information: JD Smithson, 208-769-2315 ext 455., communications@cdalibrary.org
Visit the Library's Reference Desk to pick up a copy today!
JD Smithson is inviting you to a scheduled Zoom meeting.
Topic: November Pageturners- Grapes of Wrath
Time: Nov 24, 2021 02:00 AM Pacific Time (US and Canada)
Join Zoom Meeting
https://cdaid-org.zoom.us/j/96163852100?pwd=YnVNVGRPczZ3djJaUVdYR1FYVnpHdz09
Meeting ID: 961 6385 2100
Passcode: 531520
One tap mobile
13462487799,,96163852100#,,,,531520# US (Houston) 16465189805,,96163852100#,,,,531520# US (New York)
Dial by your location
1 346 248 7799 US (Houston)
1 646 518 9805 US (New York)
833 548 0276 US Toll-free
833 548 0282 US Toll-free
877 853 5257 US Toll-free
888 475 4499 US Toll-free
Meeting ID: 961 6385 2100
Passcode: 531520
Find your local number: https://cdaid-org.zoom.us/u/ab5ibVFpRh
Join by Skype for Business
https://cdaid-org.zoom.us/skype/96163852100