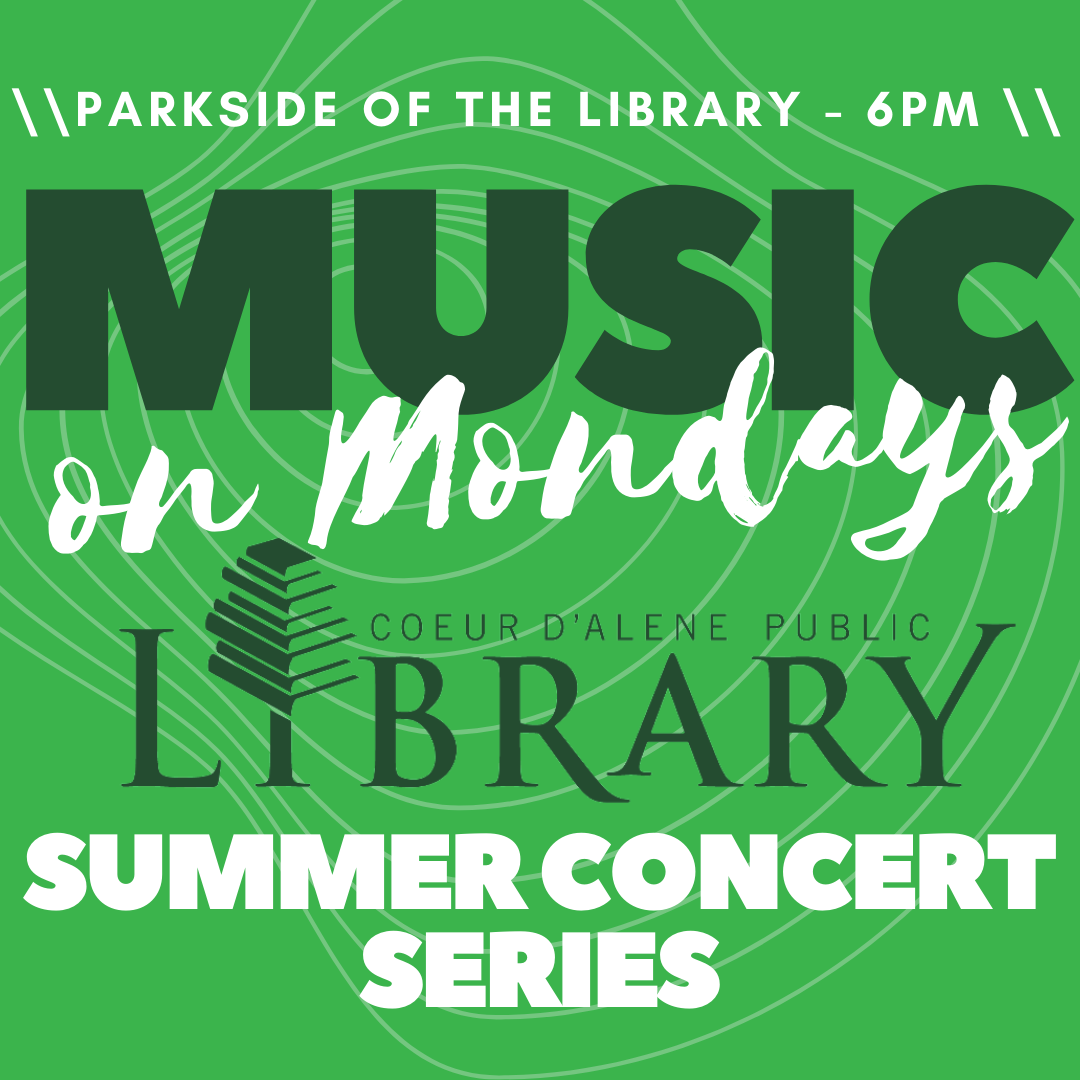 Music on Mondays
Music on Mondays: a Summer Concert Series at the Coeur d'Alene Public Library
The library's Outdoor Summer Concert Series is returning June 27th and run through until the end of August! All concerts run from 6-7:30pm and are provided for free by the event sponsor, the Coeur d'Alene Library Foundation. The concerts, performed on the McEuen Park side of the library and attendees should bring their own seating.
June 27/Old Plank Road
These fellers will delight you playing a modern improvisational version of American Old-time music. Versatile and talented musicians all! Brad Sondahl, plays guitar,  Don Thomsen plays mandolin, and Dave Lorang plays upright bass….expect some bluegrass harmonies…
July 11th/The Matt Renner Band
Enjoy Old Time Country, Bluegrass, and Americana music from The Matt Renner Band. The members include songwriter and guitarist Robert Artz, drummer Lee Pittmon, bassist Tom Richards, guitarist Ella Ellinghausen, and songwriter and fiddler Matt Renner.
July 18th / Kathy Colton & the Reluctants
Singer/songwriter Kathy Colton, Carla Grant, and Denise Bartlett bring you upbeat Folk/Rock. They are local favorites! Their strong harmonies and rhythms will have you dancing and singing along!
July 25th /Four Peace
Four Peace based in North Idaho is an acoustic Americana band with overtones of Bluegrass, 60s , pop, folk rock etc. Singing long time favorites like Gentle on my Mind, Mr. Bojangles, Moondance & much more. Four Peace is a rich sound of soft Vocals, mandolin, guitar, banjo & stand up bass.
August 1st /Dr Phil & the Enablers
A local rockin' blues band with lots of soul. Influences include B.B. King, Eric Clapton, Stevie Ray Vaughn &
other blues legends. Throw in some toe-tappin' tunes from ZZ Top, The Allman Brothers & Van Morrison for a little variety.
August 8th /Rusty Jackson Trio
The Rusty Jackson Trio brings Classic Country that will rock your world! Johnny Cash, Merle Haggard, Waylon & Willie and more! Plus a little bit of classic rock and few of Rusty's originals.
August 15th /Arvid Lundin and Deep Roots
With fast fiddling, rollicking rhythms and beautiful ballads, this band plays a high energy mix of instrumental music and songs drawn from traditional and contemporary sources. You'll hear Celtic, Canadian, Scandinavian and American roots music that will have your toes tapping and your heart soaring, as well as some tunes from other genres. They bring a show that has something for everyone!
August 22nd/ Coeurimba
Coeurimba This Coeur d'Alene marimba group has been performing traditional and popular music from Zimbabwe past and present. They have fun with their upbeat, dynamic rhythms and happy melodies for you to enjoy with the setting sun.
August 29th /CDABrassx5
CdABrassX5 is a "classic" brass quintet with a very diverse repertoire. The ensemble includes two trumpets, a French horn, a trombone and a tuba. Their repertoire includes classical composers like Sibelius, Bach, Handel, Copland, Gabrieli. They like to explore Americana by playing a variety of familiar patriotic and folk songs. Also included in their program are several jazz pieces including favorites like "When the Saints Go Marching In", "Maple Street Rag" and "Don't Get Around Much Anymore". Their diversity makes for a n enjoyable night of music for all. Feel free to drop us a line if you have any questions 
cdabrassquintet@gmail.com