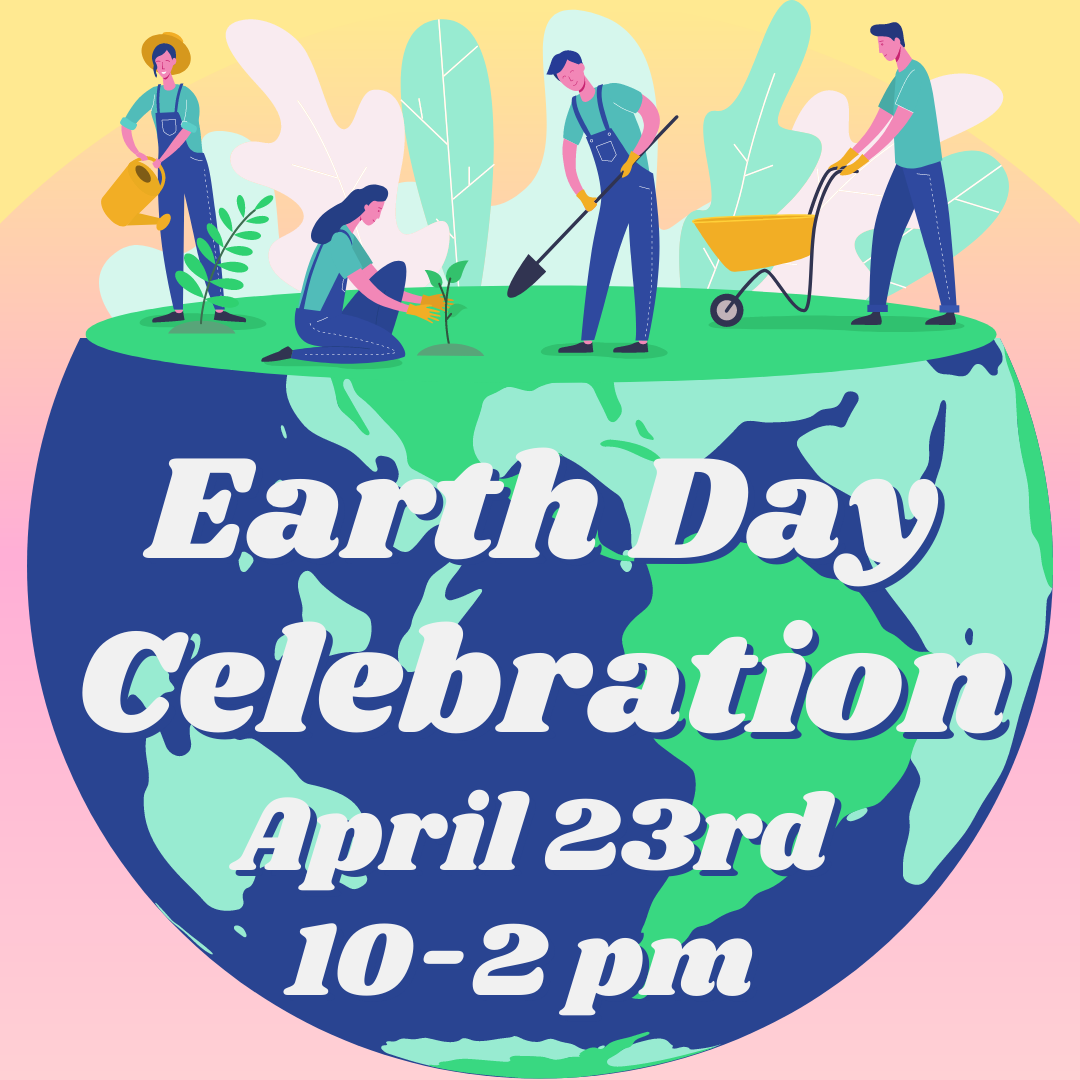 Earth Day Celebration Event
Earth Day Celebration Event Coeur d'Alene Pubic Library- Saturday April 23 (10-2PM)
Celebrate Earth Day with us! Join us on Saturday, April 23rd, from 10-2pm for outdoor activities and booths, as well as socially-distanced educational presentations in the Community Room. Our outdoor festivities will be held on the parkside of the library.
Participate in fun earth centered activities
Learn about the organizations who are working towards a more sustainable Coeur d'Alene, and
Contribute your time and talents to help.   It takes all of us together!
We're bringing together a number of local environmental organizations for a fun outdoor Saturday of games, giveaways, and learning. Our planet is an amazing place, but it needs our help to thrive! That's why each year on April 22, more than a billion people celebrate Earth Day to protect the planet from things like pollution and deforestation. By taking part in activities like picking up litter and planting trees, we're making our world a happier, healthier place to live.
Tubbs Hill Bird Field Trip – Saturday, April 23 (9 AM)
Anyone interested will be able to join a bird field trip to Tubbs Hill on Saturday, April 23rd. There will also be a preview of the new birding backpacks developed by the library and CDA Audubon Society.  The field trip is scheduled for 9:00 a.m., weather permitting, and will begin at the East entrance to the Tubbs Hill trailhead. Binoculars would be helpful.
Events at CDA
–Tubbs Hill Bird Field Trip
-Idaho Washington Aquifer Collaborative & Efficient Irrigation Standards presentation
-Rose Drummers
-Sorenson Dancers
-Sorenson Jugglers
-Sorenson Marimba Performance
-Recycling Paper Station
-Discovery Bus with activities and prizes (front of the building in the library parking lot)
-Virtual Storytime (available on FB)
-Tree Giveaway
Off-site Events
–Firepit Chat @ KEA
-Coeur d'Green Compost Giveaway
-Road Cleanup
-Spring Dash
Exhibitors
–Friends of Tubbs Hill
-UIdaho Water Outreach
-Panhandle Health District
-CD'A Audubon
-True to Seed
-CDA Streets Department
-CDA Waste Water Department
-Gizmo
-Selkirk Conservation Alliance
-Kootenai County Democrats
-Kootenai Environmental Alliance
-Coeur d'Alene Tribe
-Hayden Lake Watershed
-CDA Tri Team
-Civic Engagement Alliance
-Citizen's Climate Lobby
-Community Library Network (Discovery Bus)
-Unity Environmental Team – The Stop Using Single Use Plastics Challenge