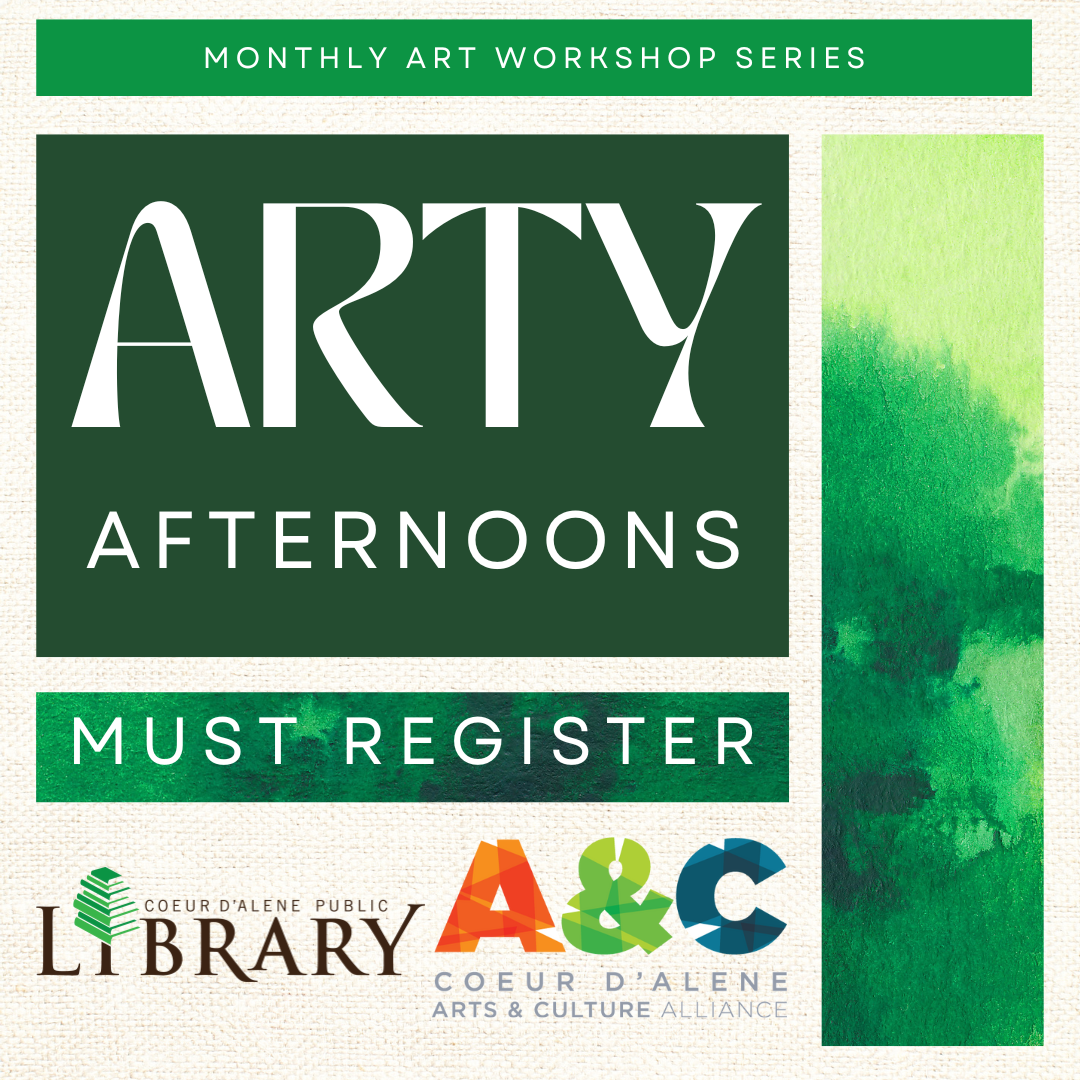 Arty Afternoons: an Art Workshop Series
Arty Afternoons: an Art Workshop Series 
Get to know your local artist community in this special collaboration with The Coeur d'Alene Arts and Culture Alliance. Each class will be led by a local artist who will teach you step-by-step how to make your own unique piece of art. All supplies are provided free of charge but are limited so registration is required! 
Tuesday, September 26 (1-3 pm) – In the second session, we will make mixed media art collages using painted paper, construction paper, magazines, and newspapers. We will provide materials but feel free to bring your own craft paper or printed materials from home! 
REGISTRATION FOR THIS EVENT HAS CLOSED
Friday, October 20 (11 am) – Join local artist Donna Bain in making a beautiful watercolor collage. She will teach you watercolor techniques then show you how to make a collage unique to you! Supplies will be provided but feel free to bring anything you might want to include in your collage. Registration is required!  Ages 12+ 
REGISTER HERE: https://forms.office.com/r/LiJzFXWEi2
Past Programs:
Friday, July 21 (2 pm) –  Join local artist Sue Loughlin in the Community Room for a guided "Pour Painting" project, no experience needed! Learn different techniques to create a beautiful abstract painting by layering and pouring acrylic paint onto a canvas.
Wednesday, August 9 (1-3 pm) – In this first session, we will be Printmaking (or stamping) with fruit and vegetables. We will play with pattern, texture, shape, and color to create unique modern designs. Each person can make a series of mini prints to share in the little galleries and to take home.  Preregistration is required.