Are you a researcher, a genealogist, a college student, or an enthusiast of North Idaho history? The Idaho Collection, located in the library's Nelson Room, houses rare texts and reference materials of historical interest to North Idaho and Coeur d'Alene. The collection contains over 2,000 books, DVDs, and materials related to the history, geography, and culture of North Idaho.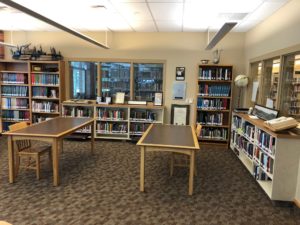 The Idaho Collection also includes contemporary documents such as issues of North Idaho College's literary magazine Trestle Creek Review, and hardbound entries of the annual Julie Meier Writers Competition, spanning from 1989 to the present.
DVDs are available to check out to patrons with a library card. Most copies of books in the Idaho Collection are non-circulating (meaning they cannot be checked out). If you find a book you wish to check out for yourself, ask our staff if we have a copy of the book that circulates. Otherwise, you are welcome to use Idaho Collection materials inside the library.
The current Nelson Room (in full; Ralph S. and Jeanette Nelson Memorial Room) was established when the new library building at 702 E. Front Ave. opened in 2007. Funding was generously provided by Jean Nelson and family.
Additional links: