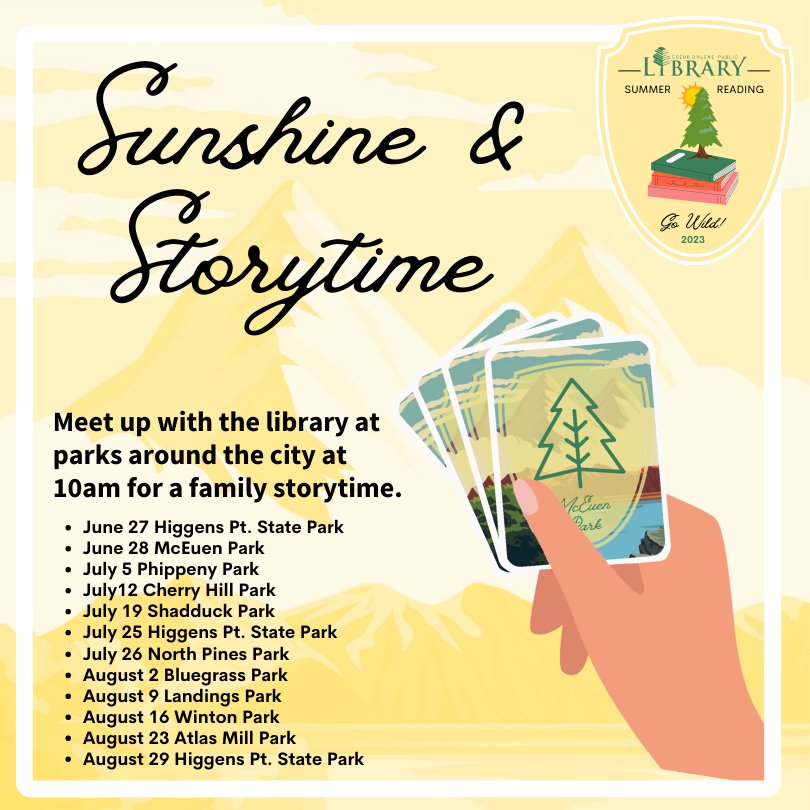 Sunshine & Story Time in the Park  
Sunshine & Story Time in the Park  
As part of the Library's summer programming, the Library's Outreach Team is bringing Summer Sunshine Story Time to a park near you! We're meeting at 10 am each week (sometimes twice a week) this summer, so join us in various parks around the city to discover new places and learn more about the natural world around us. Stories, crafts, and activities will be nature themed, and fun! Collect a different Park Card each time you join us. Collect 5 or more cards to earn a prize! Collect all 9 cards and be entered into a drawing for a grand prize. 
Tuesday, June 27 (10 am) Higgens Point State Park – E. Coeur D'Alene Lake Dr
Animal Tracks – Help us celebrate a new story walk at the Higgen's Point boat launch! Lots of fun activites for all ages! 
Wednesday, June 28 (10 am)McEuen Park – 504 E Front Avenue
Sunshine Storytime – Fun activities about the sun, light waves, and sun safety. Make a sundial, a sun cather, or a spectroscope. Visit the sundial in the park. Free books and snacks will be available. 
Wednesday, July 5 (10 am) G.O. Phippeny Park – 827 N 8th Street
Tree-mendous StorytimeDiscover this gem of a park while learning all about trees! Get your free tree identification books and study kits. Join in the Fun activities for all ages. 
Wednesday, July 12 (10 am) Cherry Hill Park – 1718 North 15th Street
Buggy Storytime- Explore and discover the amazing world of invertebrates. Study these creatures close up and make your ow jumping insect. Have a buggy snack, enjoy free books, and more! 
Wednesday, July 19 (10 am) Shadduck Lane – 1875 E Shadduck Lane
Animal Builders Storytime – Learn about some amazing animal engineers and create your own masterpiece from natural materials. Free books and snacks! 
Tuesday, July 25 (10 am) Higgens Point State Park – E. Coeur D'Alene Lake Dr
Gone Fishin' Storytime – Idaho Fish & Game will be brining their fishing trailer and will teaching us how to fish! 
Wednesday, July 26 (10 am) North Pines Park – 1015 E Lunceford Lane
Whoo Loves Storytime? – Explore the unique features of these special birds. Sift through an owl pellet to see what owls have for lunch! Free books and snacks available. 
Wednesday, August 2 (10 am) Bluegrass Park – 6071 N Courcelles Pkwy
Storytime in the Clouds – Learn about different types of clouds and how they help predict the weather. Activities for all ages. Make a cloud finder and other weather prediction instruments. Free Books, snacks, and fun! 
Wednesday, August 9 (10 am) Landings Park – 3849 W Longmeadow Drive
Grow with Storytime – Enjoy a storytime all about plants and growing things. Decorate a pot for your own plants and create your own "seed bomb." Free Books and more! 
Wednesday, August 16 (10 am) Winton Park – 1507 Melrose Street
Gigantic Outdoor Fun – Enjoy some of your favorite yard games – SUPERSIZED! Play hard, play fair, and have fun! 
Wednesday, August 23 (10 am) Atlas Mill Park – 2411 N Atlas Rd
A Watery Storytime – This week is all about water and bubbles. Explore what lives is the water, play water games, and make giant bubbles! Free books and more. 
Tuesday, August 29 (10 am) Higgens Point State Park – E. Coeur D'Alene Lake Dr
Storytime for the Birds! – All about adaptations! Play the "Bird Beak Game," take home a free book about weird bird beaks, make a flying bird, and discover how birds are uniquely suited to their niche in the environment.