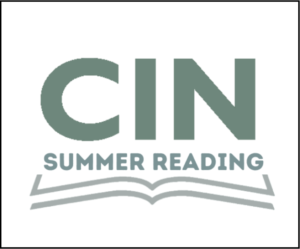 The CIN Summer Reading Program is here!
This year, from June 8 to August 31, you have two ways to log your reading and challenge activities:
• paper logs and activity challenges that can be picked up at the Coeur d'Alene Public Library
• or online tracking, which can be accessed at http://summer.cinlibraries.org/
The Summer Reading Program is available for ages 0-19, and includes monthly activity challenges for Early Literacy (0-4), a reading log for Kids 5-12, and reading and ActiviTEENS challenges for teens (13-19). You will be notified when prizes are available at your favorite participating library.
All ages have online programming available, as well. For more information about schedules and offerings, visit our Facebook pages: Coeur d'Alene Children's Library (for ages 0-12) or Teen Zone at CdA Library (for ages 13-19).
Feel free to swing by and pick up a doorhanger with this information, or bookmark this page for future reference.
Have a good summer! Happy reading!